EAW. Added value through tradition.
1919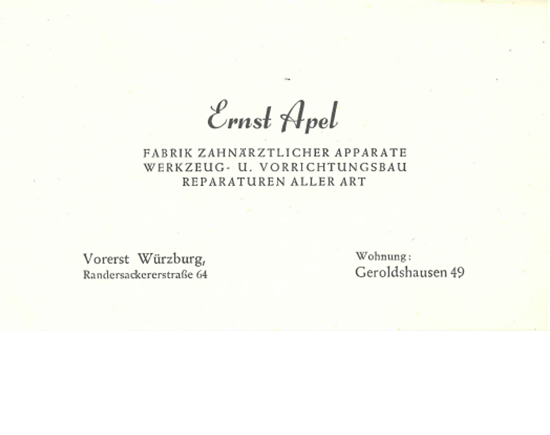 Founding
Ernst Apel sen. founded a company to manufacture dental equipment. "His products ranged from braces to broach holders, cotton wadding containers and vulcanisers to complete medication cabinets from the in-house joinery shop (quote by grandson Michael Apel)

1923
Purchase of the Elektro-Dental-Werke Frankfurt
Purchase of the competing Elektro-Dental-Werke Frankfurt. Ernst Apel sen. converted their trademark of EDW into EAW Ernst Apel Würzburg). Other business areas like finishing all kinds of metals, trading in bicycles and appliances, and a wide range of electrical installation services were added to the company. During the golden 20s, EAW Würzburg played a key role in converting the city from gas to electrical lighting.
1936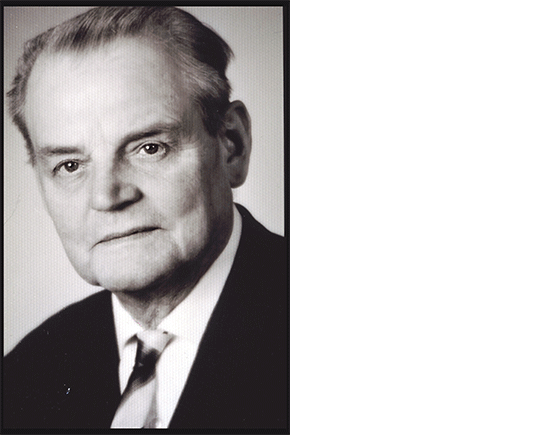 Closing of production by the NSDAP
After significant differences between Ernst Apel sen. (pictured) and the responsible party offices, the production facility was closed by the NSDAP and all production machinery was seized. Afterwards, the company's business was restricted to intermediate and wholesale trade in dental equipment.
1941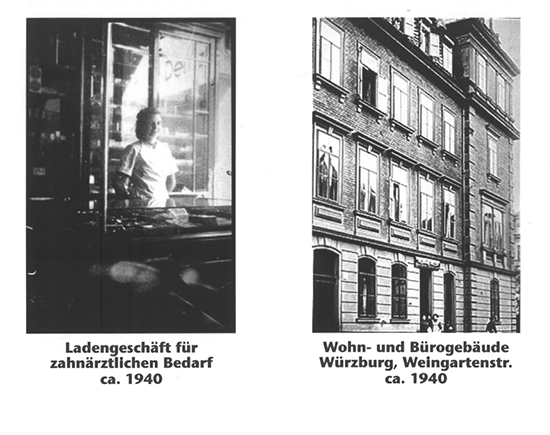 Forced to manufacture important wartime products by the NSDAP
1944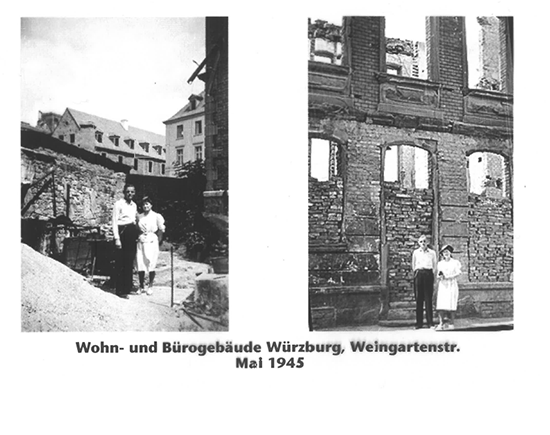 Complete destruction of the company by Allied bombing attacks
1945
Start of reconstruction
Reconstruction of the company with a new focus on manufacturing dental equipment. The first scope mounts were developed and produced at the same time.

1951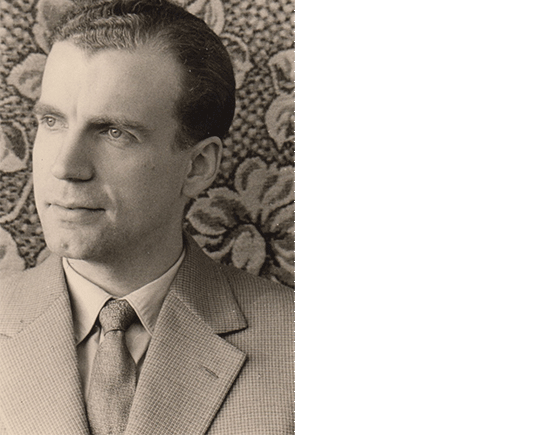 Ernst Apel jun. joins the company.
After successfully completing his engineering degree, Ernst Apel jun. joined the company in 1951. The father and son team successfully makes international contacts in over 40 countries. Since this time, the development and production of scope mounts has been EAW's primary focus.
1955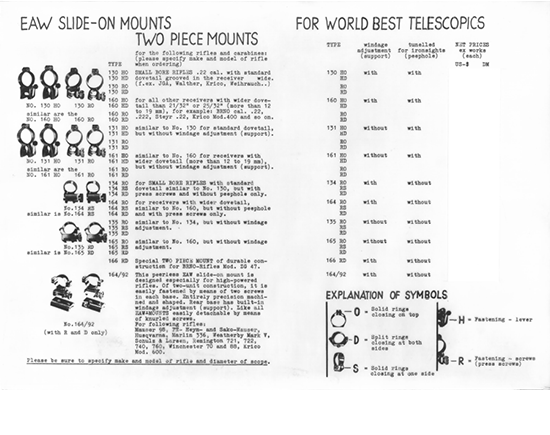 First utility model
EAW registered its first utility model in 1955. It also started delivering scope mounts abroad at the same time.
1969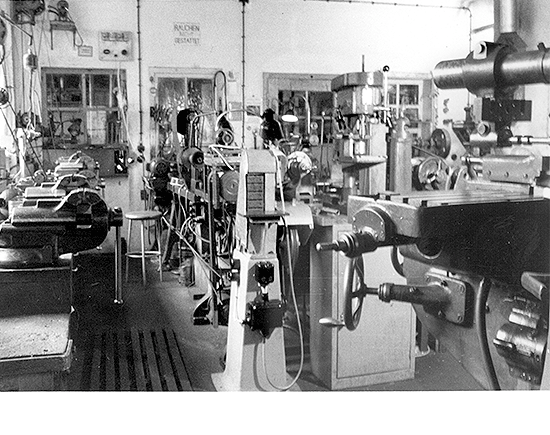 Consistent growth
Increasing demand for scope mounts from EAW require an expansion of the workshop. The space had finally growth too small for the company's continuously growing production.

1970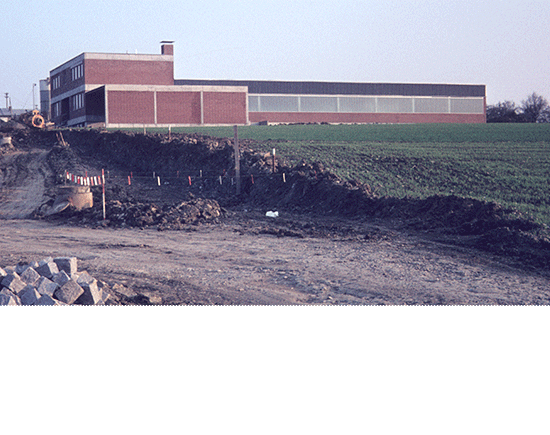 Location change
In 1970, production was moved from Würzburg to the current company facility in Gerbrunn.

1973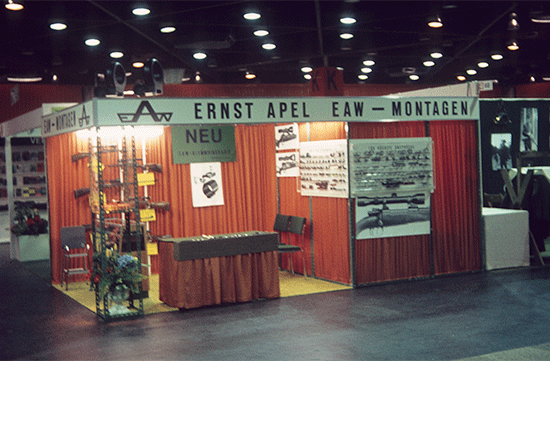 Protection for EAW pivot mounts and exhibition in Siegen
In 1973, the famous EAW pivot mount was protected as a utility model. In addition, firearm exhibitions were held at a variety of locations. The exhibition in Siegen in 1973 served as a precursor to the IWA in Nuremberg. A modest, home-grown exhibition booth celebrated its debut.

1975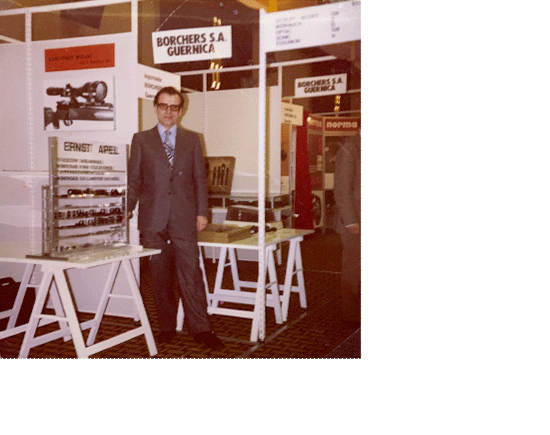 Hotel exhibition in Spain
Smaller exhibitions are staged abroad as well, mainly in hotels. Mr Ernst Apel at a hotel in 1975 at our partner, the Borcher company in Spain.
1977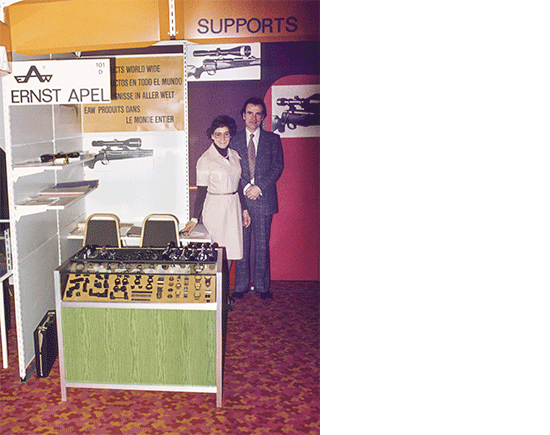 Helsinki exhibition and increasing exports
Ernst Apel jun.'s wife, Margrit Apel, was always on hand. Exports to over 40 countries play an ever larger role. In 1977, they already accounted for up to 60% of sales.
1980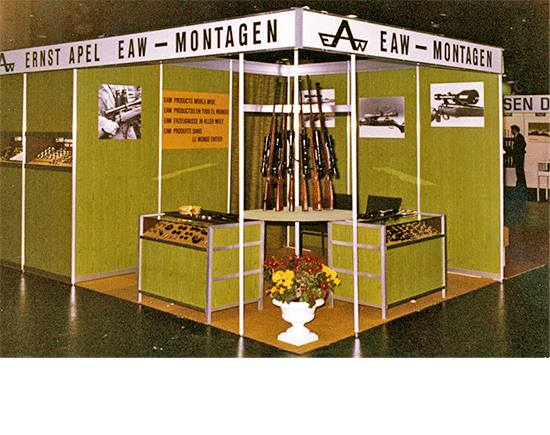 IWA
EAW took part in an exhibitor at the IWA right from the start. At the beginning, it was one of just three mount manufacturers.
1992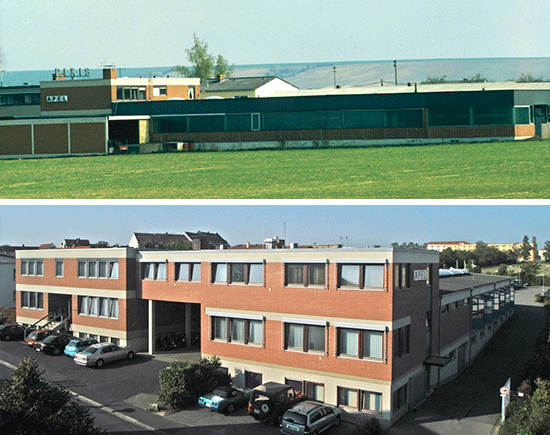 Expansion of production
The expansion of the company building, and moving the production warehouse in 1980 were followed by steady growth, resulting in a new, second warehouse and administrative building being built in 1992 as essential for modern production. Despite modern work centres, the company still places a high value on traditional craftsmanship for optimal quality.
1994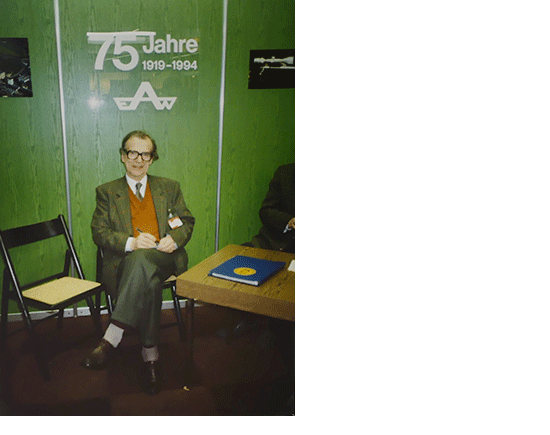 Company anniversary: EAW turns 75
Ernst Apel at the 75-year EAW anniversary
1995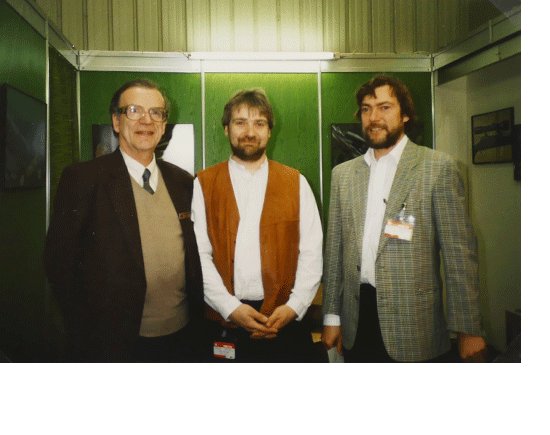 Ernst Apel and sons
Ernst Apel with his sons Michael and Markus Apel
2005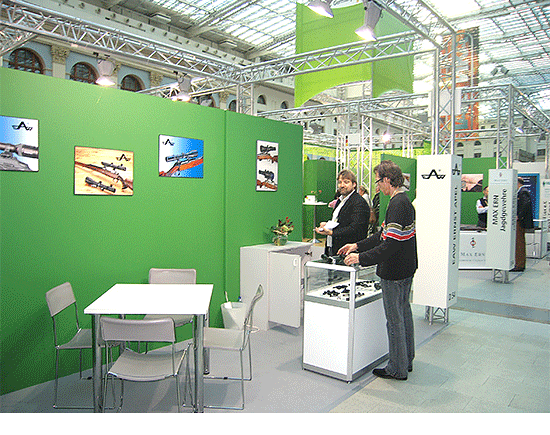 Moscow exhibition
The eastern European market became ever more important. The company took part in a hunting rifle exhibition for the first time in 2005.
2019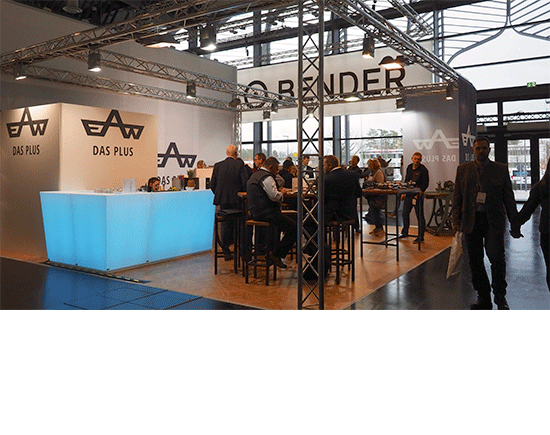 New exhibition booth
EAW presents the new exhibition booth at IWA 2019.
2019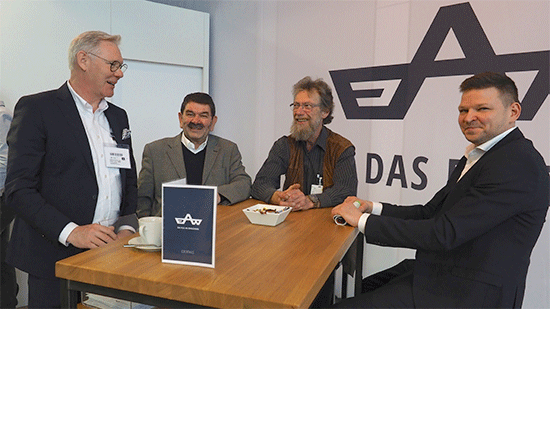 IWA 2019
Mr Markus Apel, Mr Atanasow, Mr Linzner and Mr Schilling talking at IWA 2019.
2020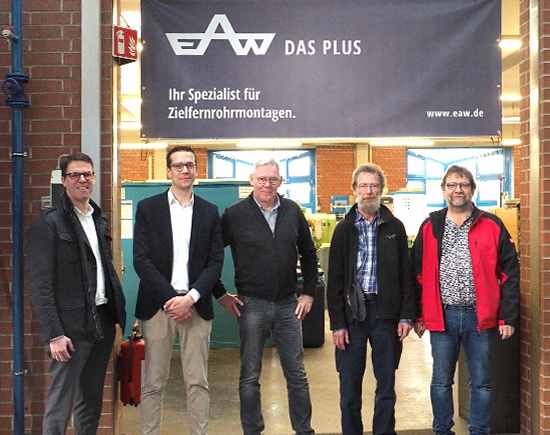 Company handover
(from left to right) Dr. Schädler, Klatt, Schilling and the Apel brothers after informing employees that Mr Schilling will be taking over as owner of the company.