The highest quality in precision mechanics
Welcome to Ernst Apel GmbH in Würzburg. We are your partner for precision mechanics of all kinds. We thank you for your interest in our manufacturing services, and we can ensure you will receive the highest-quality products available. Customers in over 40 countries appreciate the quality and range of services offered by EAW manufacturing. Why?
As a specialist in precision mechanics, we stand for quality, innovation, variety and service. A wide range of production processes, highly qualified employees and many years of expertise guarantee outstanding precision, flexibility and reliable delivery, from single part to series manufacturing.
Your benefits with contract manufacturing from EAW
First-class processes for single part and series manufacturing
all process steps, from project management to machining, surface finishing, assembly and quality assurance from a single source
highly-qualified personnel
extensive machine fleet
current certification in accordance with ISO 9001: 2015
Overview of our production processes
EAW handles contract manufacturing for small and large components or assemblies in the following areas:
Machining
– Turning machines up to a diameter of 300 x 400 mm
– Turning and milling centres up to a diameter of 100 mm from bar
– 3-axis processing centres up to 600 x 400 x 400 mm
– 5-axis processing centres up to a diameter of 80 mm from bar
Barrel finishing
Burnishing up to 300 x 500 x 300 mm
Engraving laser with a laser area of up to 100 x 100 mm
Assembly of components
Do you have questions about our services? We are here for you.
Contact
P  +49 (0) 931 70562 – 0
Sales
Moritz Pawlofsky
T  +49 (0) 931 70562 – 11
Svenja Freudenberg
T  +49 (0) 931 70562 – 26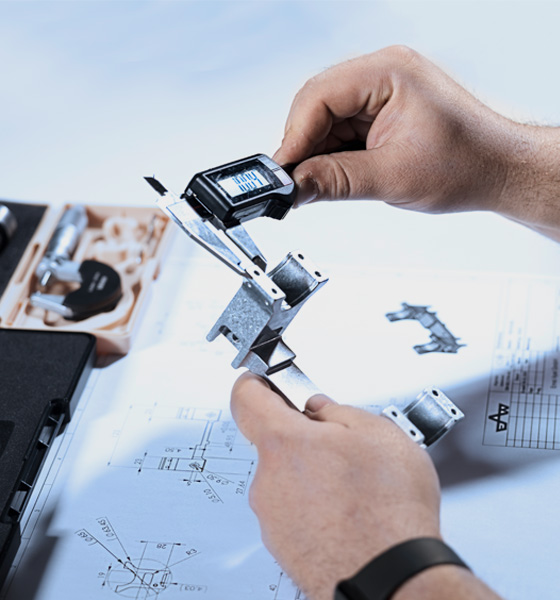 Certified quality for the highest demands
Our experienced employees ensure the highest quality throughout all process steps in our production areas. Our quality is also verified by our current ISO 9001 certification: 2015.